Facebook and other social networks hold an ever growing amount of personal information about us. Users sign up to social networks and fill in their personal details and sometimes don't realise that these details and any information you input may not actually be private, but visible to anyone who may wish to view it.

First things first, to realise how bad the problem may or may not be, you must view your profile as if you were a total stranger. Now, rather than finding a total stranger and asking them to view your Facebook profile, there is actually a handy feature that allows you to view your own profile, as a member of the public would see it.
Go to your profile page and just under your cover photo click the settings button to expand out the menu. In here select the 'View As...' option:

Once the page has loaded you need to select the 'public' link in the information bar at the top:

Now, you are currently viewing your Facebook profile as a member of the public. This is the information that anyone can see, whether or not they even have a Facebook account. If you can see photos, email/contact details or even address information, this is what people can learn about you by simply searching Facebook. If there is information here that you would not like to be public then you need to alter your privacy settings on your Facebook account to protect it.
You can change the privacy level of information on your account using the following icons where ever you see them. From left to right they are Friends Only, Custom and Public. Any information with a globe or Public icon can be seen by anyone.

For example, if you want to change the privacy settings of your photos, navigate to your photo albums and look for the privacy icons underneath each album, you will see one of the three shown above. If there is a Public icon below any of your albums, simply select it and change it to Friends to make that album visible to only your friends.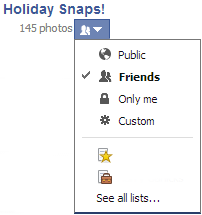 The same method applies to changing your personal information, navigate to your profile page, select the 'about' link and then use the edit button to change the privacy level of any of the information:

That's it! Once you have changed the privacy settings for your information you can rest assured that your private data is actually private. If you now go back to the beginning of the post and follow the steps on how to view your information as a member of the public, you will see that any data you have made private is no longer visible!
Tip If you wish to further tweak your privacy settings there are more options available from the menu in the top right hand side of the screen, located here: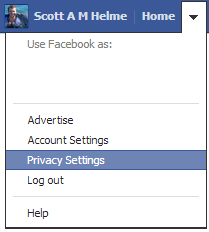 These further settings are fairly self explanatory but if you need any help, just ask a question in the comments section below!
Scott.
Short URL: https://scotthel.me/FBPrivate