There's a blog post title I thought I'd never write! The journey of Report URI has been long and interesting, requiring me to learn an awful lot along the way. Much of what I've learned I'd never expected to have to learn and marketing is just another one of the things on that list.
Marketing
First of all, let's start out with what marketing is:
marketing
ˈmɑːkɪtɪŋ
noun
the action or business of promoting and selling products or services, including market research and advertising.
"the Western arts of marketing and distribution"
Report URI is now a business and whilst it's been one heck of a ride to get here, there are certain responsibilities that come with running a business. I took investment from Troy Hunt last year and you can read the details in my blog and Troy's blog about him joining but that was the tipping point at which Report URI went from a side project to a fully-fledged business. What that means now is that I'm drawing the majority of my income from Report URI and, on top of other costs, Report URI needs to be profitable to survive. One of the main reasons I teamed up with Troy for the investment was that he's not some Silicon Valley VC who wants to throw us in a particle accelerator to see if money will shoot out the other end. Instead he's a tech minded developer that's heavily invested in the space and genuinely wants to see the project succeed. That said, of course, there's an ROI in there too, people don't invest money to throw it away. All of these are perfectly reasonable constraints for a business to have to operate within and it's something that we need to do better at for Report URI.
Existing Marketing
Up until now our existing marketing has been somewhat limited and largely based around the combination of us having a good social media following. Between myself, Troy and Michal we do pretty well for having a good amount of technical followers and that's certainly helped us with getting things off the ground initially. Another thing that seems to have helped is that I blog quite openly about our infrastructure and the challenges we face whilst building and maintaining the service. I've been blogging for a long time and have a regular readership and most of the time it's about me making sure I fully understand things by writing about them and sharing that knowledge with others because it's an interesting story. The only other thing of note is a recent conference talk I did about the technical challenges of scaling from 10,000 reports per month to 10,000 reports per second. Again, that's a technical talk but it just happens to be about Report URI and our infrastructure. I'm sure all of these things help, but they're not a focused effort on marketing or selling the product, and that's really something that we need.
The first steps
The first steps for us really were first steps and are things that some people may be puzzled that we never had or did, and some, like me, who just want to build awesome things, won't have really thought about before. A couple of questions came up in conversation once that I couldn't answer. At least, I couldn't answer them easily. It was possible for me to answer them, but not without doing some work.
How many users does Report URI have?
Now of course I can go and run a query against the database and find that out, but I don't think that was the answer the person was looking for... How many people signed up last month? How many people subscribed to a paid plan? I think you get the picture! I've been so focused on building the service and adding new features that we don't have essential metrics like this easily available to us. To fix the problem I added Event tracking to the Google Analytics we already have in place. GA tracks things on the client side like page views but with Event tracking we can track things from the server side by firing the requests from there. I will write up another blog with the technical details but for now, we started logging specific events from 12th July.

This means we can now drill down into specific events like the graph above for things like new subscriptions and new user registrations, which is a great start.
Marketing Emails
I've said the word 'marketing' a few times now and often it's not regarded as a particularly nice word. People often think of marketing emails they don't want or adverts they don't want. I have to admit I'm not really fond of the word and when I hear it, it doesn't bring happy thoughts to mind. What I realised though was that it's not marketing that I don't like, it's 'shitty marketing'. Marketing for things that I don't want, for things that I didn't subscribe to or emails that make it hard to unsubscribe all fall into the category of 'shitty marketing' for me. That's why we're not going to do any of those things or anything else that might make someone think negatively of how we're approaching our marketing emails.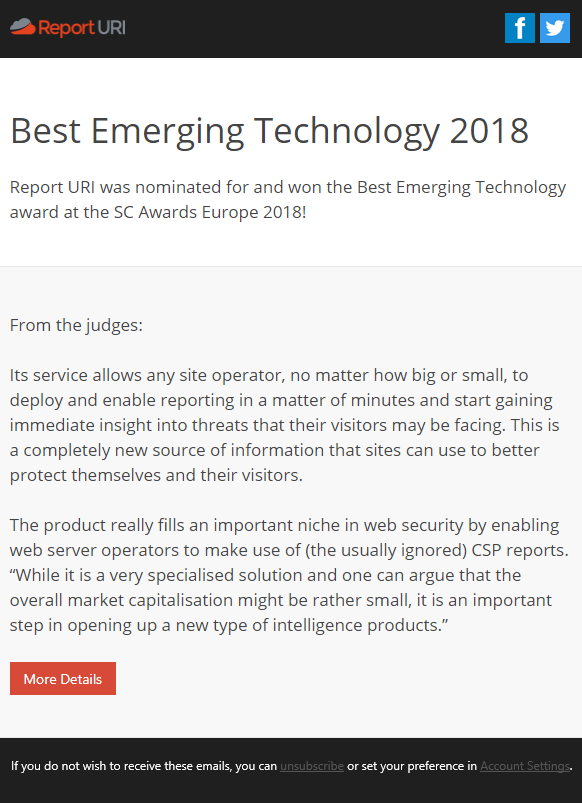 With the publication of this blog post I have also sent out our first Report URI newsletter email, shown above. The newsletter will be a somewhat regular thing with information about the service, relevant news stories or recent events and updates or offers. First of all, you're only going to get the email if you subscribed for an account with us, that's the only way we'd have your email address anyway. Next is the opt in/out situation which we've put a lot of effort into. We've defaulted all users to being opted in to marketing emails but made it as easy as we can to opt out if you don't want to receive them. I did think about sending an email to communicate the upcoming change and ask users to set their preference but sending an email to ask if we can send you an email seemed a bit redundant. Instead we're going to send the first email out and have our one-click unsubscribe link in the footer so that if users do want to opt-out, it's just the same amount of work as if we'd sent an email to ask their preference. If you visit the unsubscribe page linked in the footer, you get the following single click option to immediately unsubscribe yourself.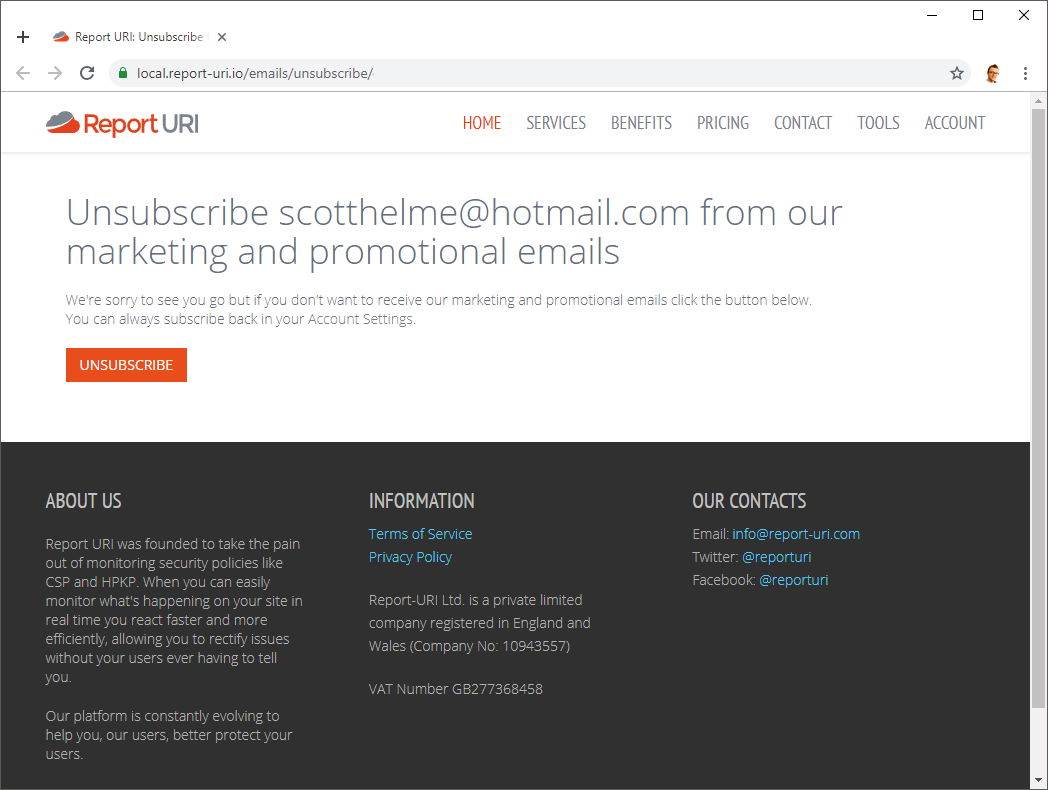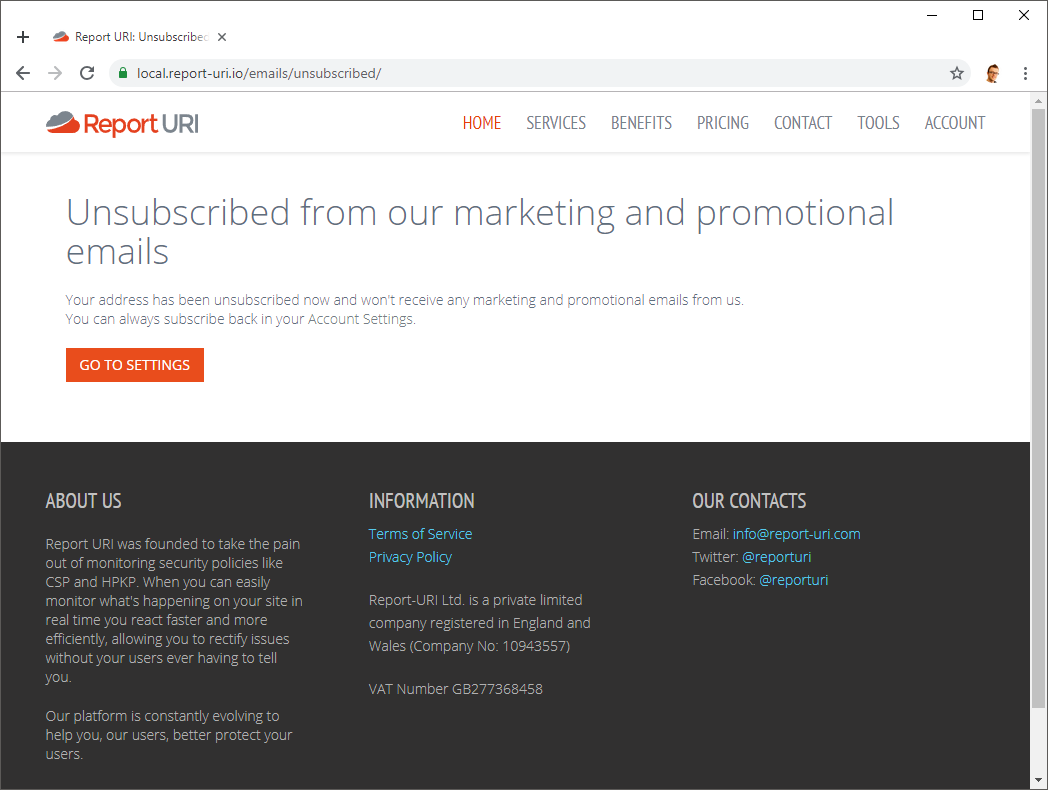 No messing around and you don't need to be authenticated, we really wanted to make this as simple as possible to stop receiving them, the way it should be. It's also the same in your Account Settings if you want to do it there too! Simply head the Settings page, click Opt Out and that's it, you're out!

There's no "7 days to update our database", "we'll process it as soon as we can" or anything like that. Click the button and you're out!
Lastly, we've integrated a few standards that will make it easier to unsubscribe if you use the GMail web UI and hopefully other mail providers will soon support this too.

The List-Unsubscribe header provides a location where the user's email client can unsubscribe from this email and the List-Unsubscribe-Post header tells it that it can do so by making a POST request there for that user. The user doesn't need to leave the mail app/client, they simply click the button and they're unsubscribed without having to do anything further! You can read more details on this in Google's Bulk Senders Guidelines.
Other Options
I'm currently looking at how we start to get the word out there a little more about how awesome browser reporting is and how much information it can provide to you. Do we do sponsored Tweets or Facebook posts? How about Google Ads? The honest answer is that I don't know and this is a brand new adventure for me! What I'd absolutely love is for you to give me your feedback and ideas. As always, the comment section below is there for anyone to weigh in and the information posted here won't just be useful to me, but to anyone that might come by this post in the future. Is there something we can do? What are the best next steps from here? What will give us the most bang for our buck? Are there good blogs or articles I should read?
I have a reasonably good following on my blog now and I think crowdsourcing a few ideas would be a great start to tackling this problem, and I'd certainly appreciate your help!