After another superb SteelCon filled with awesome talks and awesome people, I thought I'd give a quick update on the event and on the Charity Sticker Stand I ran.
SteelCon 2017
SteelCon has been a truly outstanding conference since it started in 2014 and celebrated it's fourth and largest event this year. Tickets sold out in minutes when they were released, all 450 of them! This is a testament to the great work that the organisers and support staff put in. This year was the first year that the conference offered commercial training and as usual had the free workshops for attendees the day before the conference. You can check out the other awesome events on their site like the before party, the after party, all of the great talks and the entertainment with laser tag included on Sunday! What I want to talk about though is the Charity Sticker Stand that I ran.
Stickers for Charity
Casually dubbed 'Lord Helmet's Sticker Emporium' by the conference organisers my goal was simple. SteelCon raises money for charity as part of the conference and last year they raised a pretty good total of almost £800. I started the 'SteelCon Whip Round' with Jess at the after party last year with the goal of pushing us through the £1,000 barrier to 4 digits and it turns out people are pretty generous after a drink or two! The final total was over £1,500 which was double what we started out with! I wanted to see us beat that total again this year and came up with the idea for a sticker stand where people could bring their laptops, donate to charity and kit it out with stickers. To do that though I needed stickers, lots and lots of stickers, and that's where all of the awesome vendors I contacted came to the rescue.
Generosity
Initially I had no idea how well this idea would be received so I started reaching out to vendors and was quickly surprised and pleased by how willing they all were to help out. With a brief explanation of the idea and what I wanted to do, most were already asking for my address to post some swag! The first two batches were awesome.
[![first batch](/content/ima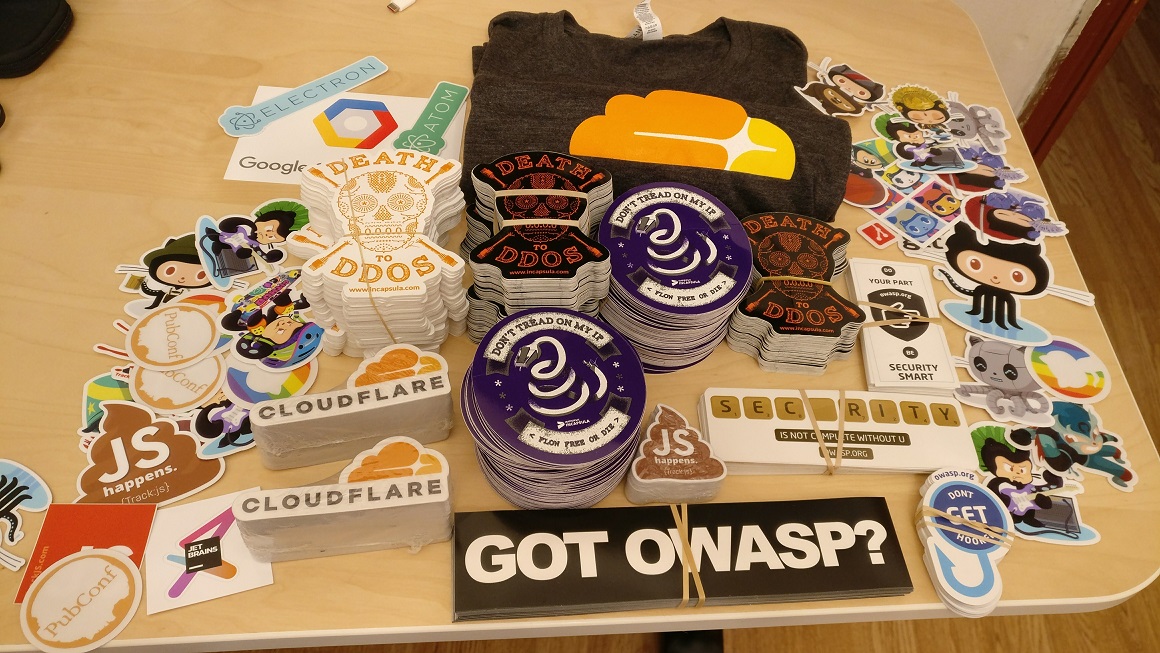 io/content/images/2017/07/IMG_20170618_002250.jpg)
[![second batch](/content/im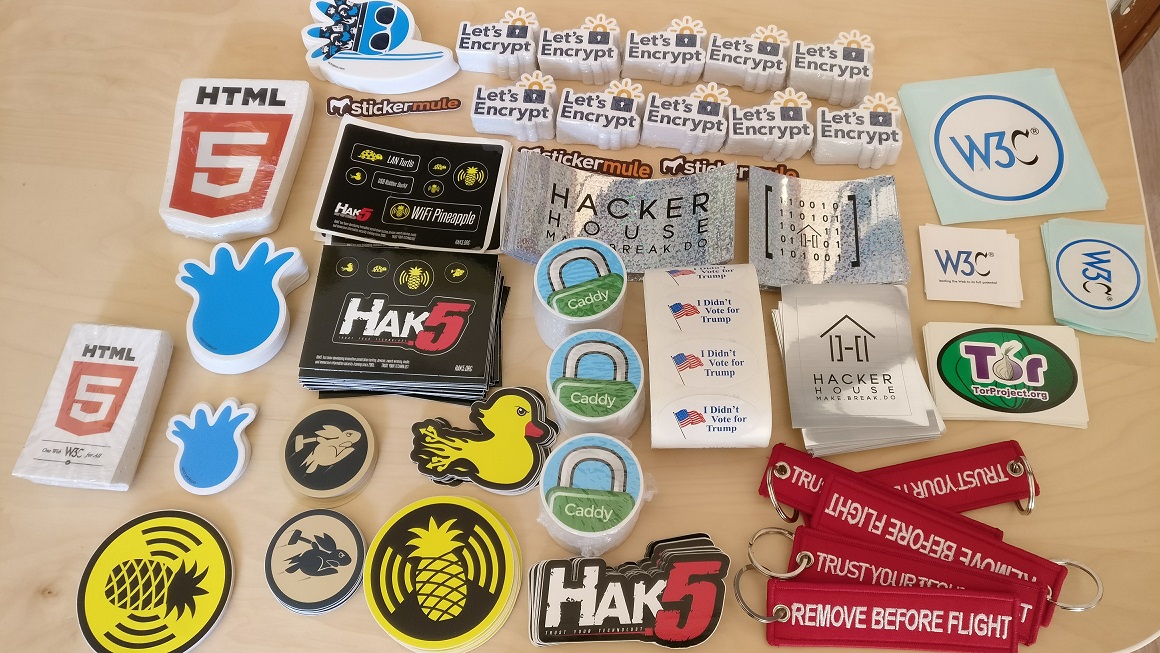 io/content/images/2017/07/IMG_20170624_175722.jpg)
Once the idea gained some traction a few others gathered swag from their companies and partners and before long we were well on our way to having some serious merchandise to put on the stand. Things were looking good.
The Big Day
I arrived at the conference early and waited for the venue to open with a few of the organisers and those running other stands. Once we got in the race was on to setup before attendees started arriving. I didn't get any pictures of the setup process, but I did get plenty throughout the day. Registration opened early at 08:30, long before the opening speech at 10:00, and the rush began!
[![getting busy](/content/im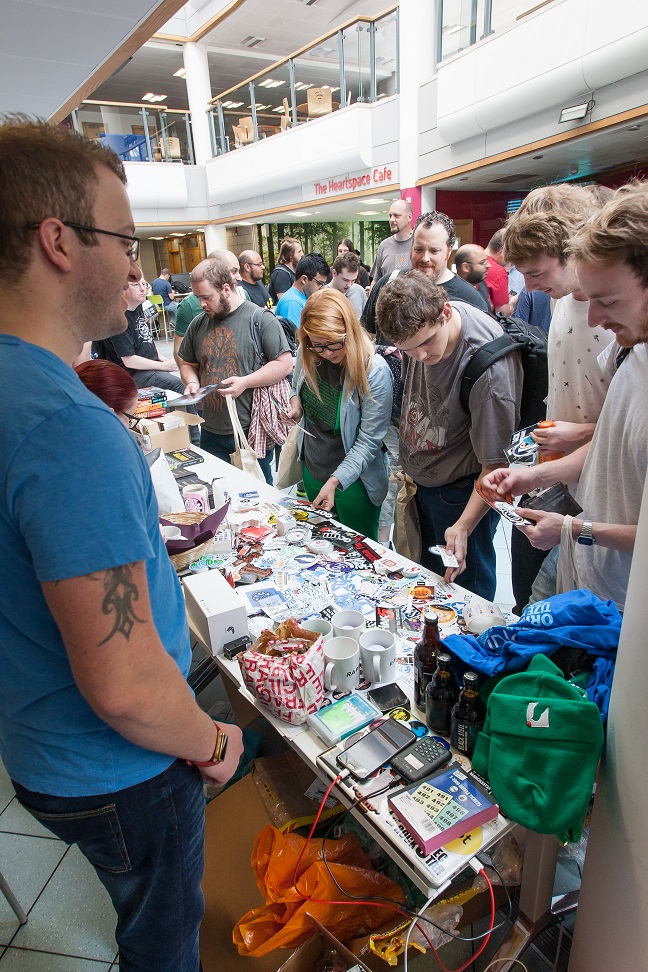 io/content/images/2017/07/_W6C5445.jpg)
[![grab the stickers](/conte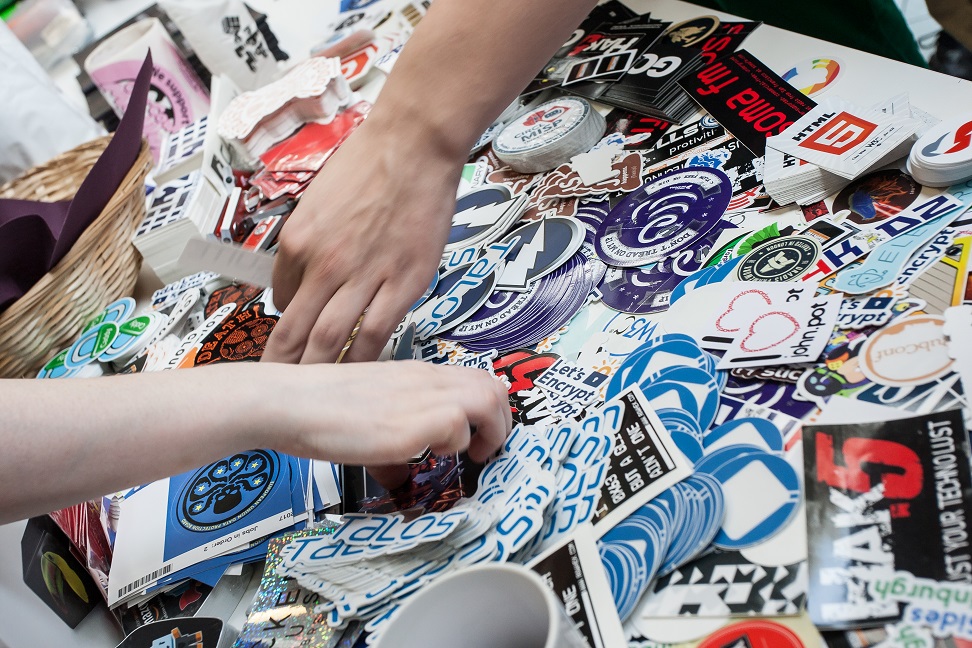 io/content/images/2017/07/_W6C5449.jpg)
[![I want these ones](/conte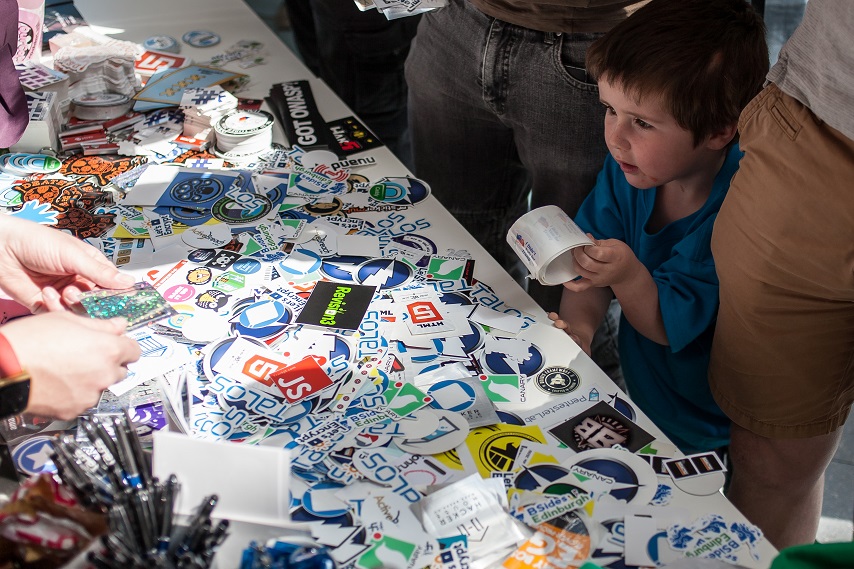 io/content/images/2017/07/_W6C5574.jpg)
[![more stickers](/content/i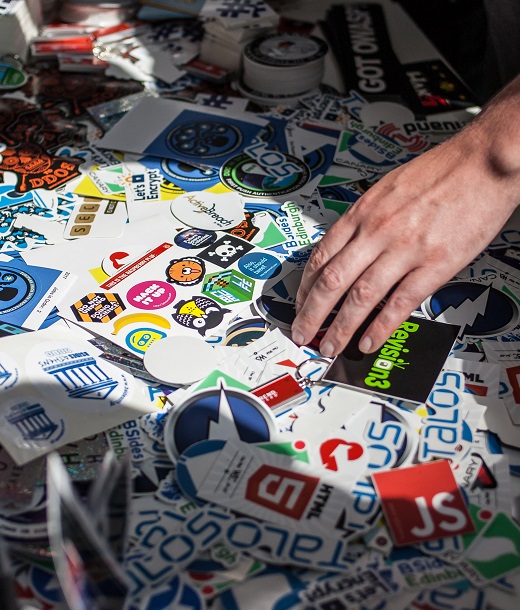 io/content/images/2017/07/_W6C5578.jpg)
Thanks to Chris Ratcliff for most of the awesome photos you see, he's also the conference photographer and he rocks. I also grabbed a few shots off Twitter too!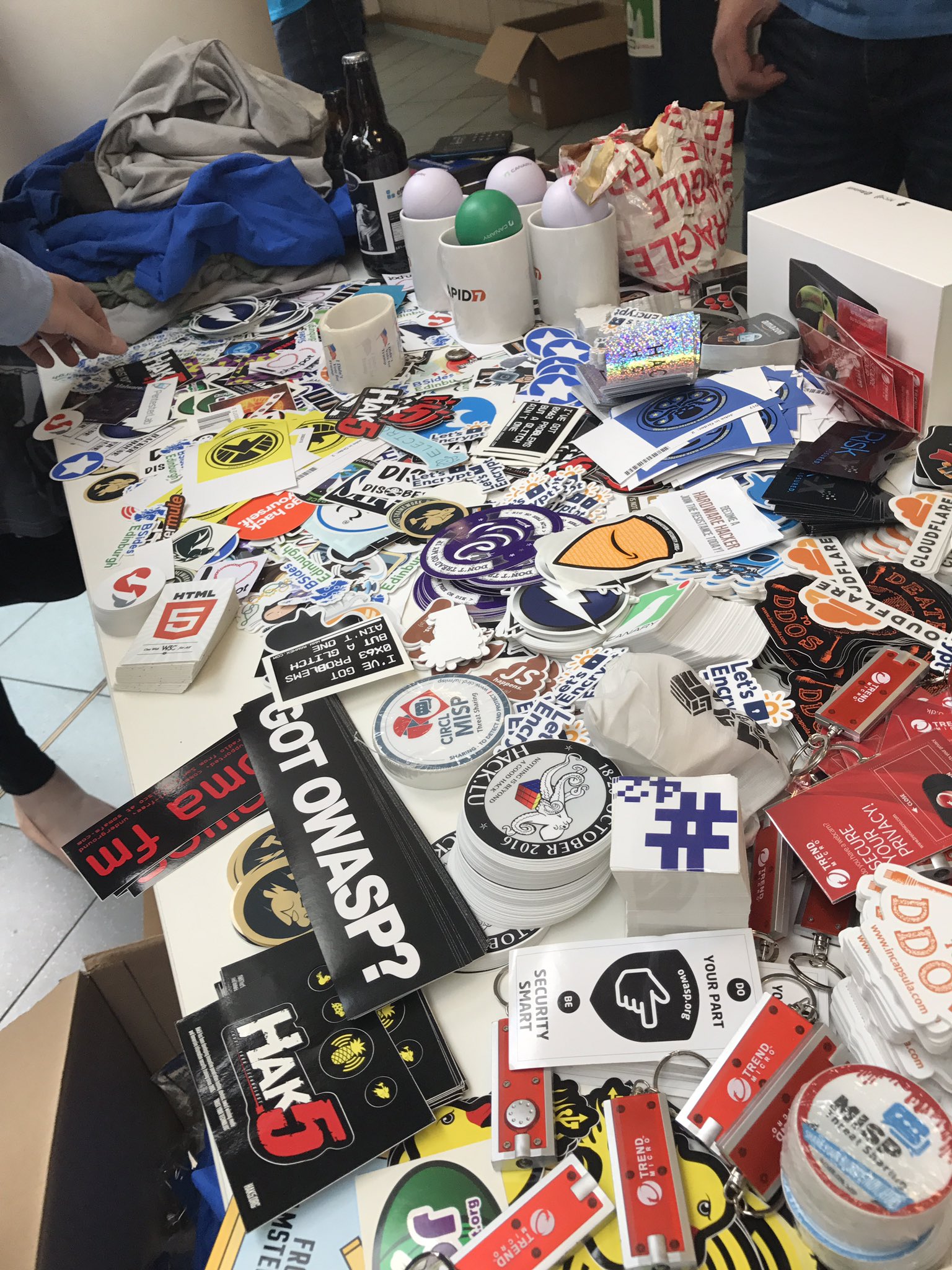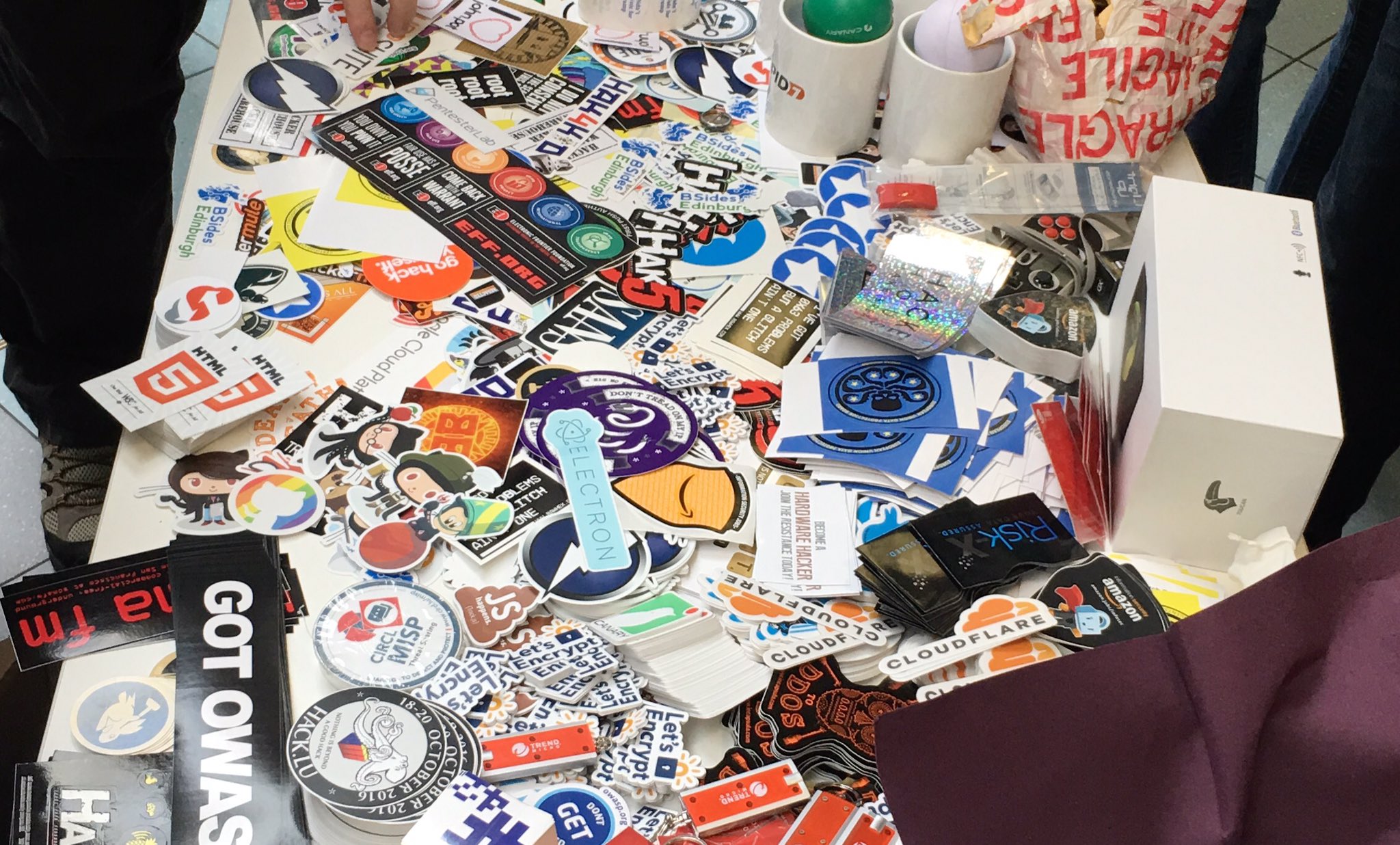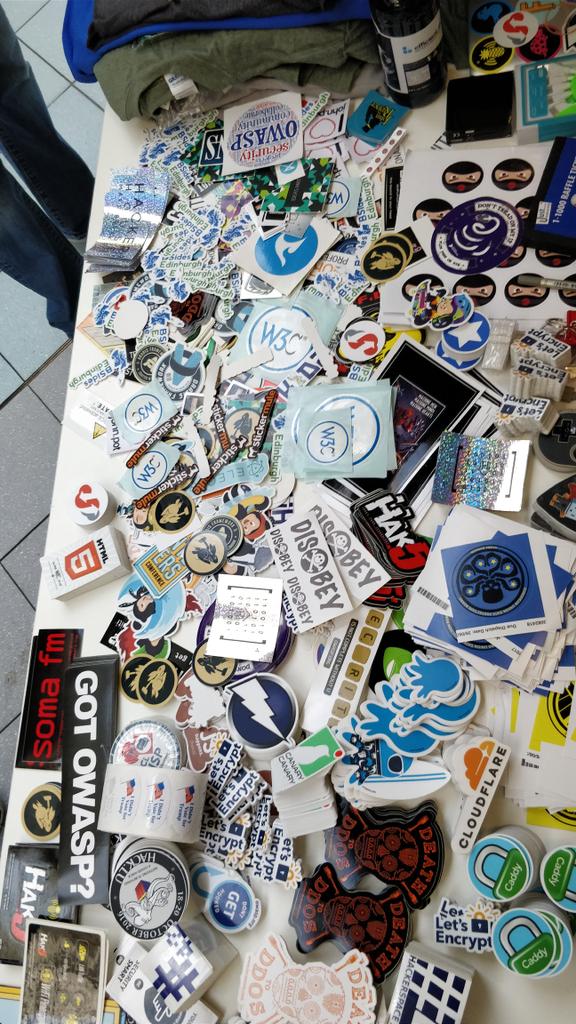 Early victory
Because the stand was up and running early on it was open all the way through registration and up to the opening speech for the conference. Robin (the main organiser) asked for a total of what we'd raised so far as the stand had actually been pretty busy, a lot more so than I expected. Before the conference even kicked off the stand had raised over £500 for charity!! Donations continued through the day and it was consistently busy in the breaks and at lunch, I think it's fair to say it was a success.
Awesome Support
The whole idea wouldn't have been possible without the many vendors who were willing to donate and support so a massive thanks is due to them. In no particular order, and I sure hope I mention everyone, here they are:
Rapid7

Hak5 (Darren Kitchen)

Imperva Incapsula (Ofer Gayer)

Cloudflare (Filippo Valsorda)

Caddy (Matt Holt)

OWASP

ZAP (Simon Bennetts)

GitHub

Let's Encrypt

Hacker House (Hacker Fantastic)

Security Headers

Report-Uri

Track JS (Todd Gardner)

BSides Edinburgh

W3C

Tor

Trend Micro

Talos

Redacted Firm

John the Ripper

BSides Athens

PubConf

Amazon

Madbob

Canary

Thinkst

Octopus Deploy (Damian Brady)

I'm bound to have missed someone (sorry!) so please do let me know and I will get the list updated.
For now, I just want to say a massive thanks to all of the vendors, to everyone that helped me out because without all of you, we wouldn't have raised our amazing total for charity on the day:
£1,208
See you next year SteelCon :-D